Blair Waldorf is the series' main character. She is described as having chesnut brown hair and brilliant blue eyes in the series , being widely involved in extracurricular activities and having a tenacious attitude towards studies. Blair uses her charm, money and social status to get to where and what she wants. Throughout the series, she has an on-off relationship with Nate Archibald. During their off times, he has dated several other girls including her close friend Serena van der Woodsen, whom he dated before dating Blair. Blair attends Yale University.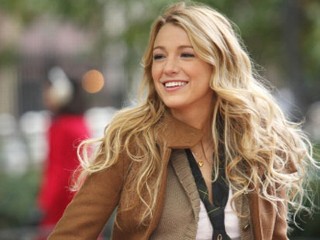 Serena van der Woodsen is described as being slim, ethereally beautiful, and "perfect". Serena dabbled in modeling before landing a starring role in Breakfast at Fred's, a remake of Breakfast at Tiffany's. Serena has kept a steady string of admirers, including Nate Archibald, Dan Humphrey, Aaron Rose, and an entire a cappella group at Yale University.Serena longs for true romance, and initially seeks this with Nate, despite his relationship with her friend Blair. Serena is often criticized by her classmates who find her an excellent source of gossip, but resent her effortless good looks and her ability to get the attention of any male. At the end of the book series, Serena decides to stay in New York City, instead of attending one of the many Ivy Leagues schools into which she was accepted, so that she can she discover her life for herself.
Nate Archibald is a wealthy, good-looking lacrosse player from St. Jude's School for Boys. He has dated a number of girls in the series, but his only serious relationship has been with his on-again/off-again girlfriend, Blair Waldorf and her close friend Serena. After stealing his lacrosse coach's Viagra, he relied on Blair and her alumnus father's connections to get accepted to Yale, although he eventually left to sail around the world with his father's Navy mentor because he is unable to choose between Blair and Serena.
Dan Humphrey is a thin, sensitive, caffeine-addicted poet who often sees the darker side of things. A romantic whose imagination runs off wildly at the worst times, he is also over-analytical and easily frustrated. He was in love with Serena for years before they met and briefly dated, and experimented with homosexuality, before he began dating Vanessa Abrams. He is a published writer of poetry and songs. At the end of the series, he is attending Evergreen State College in Washington.
Jenny Humphrey is Dan's younger sister and an aspiring artist who wishes to be more like Serena, whom she eventually befriends. She often tries to fit in with the rich girls at her school, even though she does not hold a place in their social sphere. She is eventually kicked out of the Constance Billard School for Girls and sent to a boarding school where she reinvents herself as the "it girl", a la Serena.
Vanessa Abrams is a budding filmmaker and the total opposite of most of her classmates, sporting a shaved head and always wears black. She has a shaky relationship with Dan Humphrey, particularly after she ends up living with the Humphrey's for a short time. At the end of the series, she is attending New York University.
Chuck Bass is the series' handsome, lust-driven antagonist who tries to take advantage of several girls, though it is eventually revealed that he is bisexual and he begins dating a male named Greg. He is largely despised by other characters but due to his wealth and power he is tolerated. At the end of the series, he is not accepted into any college that he applied to and claims he is going to military college. However, he never arrives at the school and his whereabouts remain unknown. In the books, Chuck is a secondary character. However, he is elevated to a primary role in its television adaptation.